Maths trick: doing fewer comparisons
Note: this is not an optimisation. It is just one more tool you should have in your toolbox when looking for optimisations. It may be useful.
This is the trick: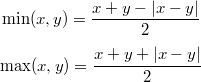 You can check for yourself that it is always true: when x > y, |x - y| is the same as x - y, etc.
What good is it for? There is often an implicit comparison in min or max. It might be interesting to replace it with a call to the branchless fabs.
Example usage
Consider the following code:
float a, b, c, d;
/* ... */
return (a > b) && (c > d);

That kind of code is often used eg. in collision checks, where a lot of tests can be done. This code does two comparisons. On some architectures, this means two branches. Not always something you want.
The test condition is equivalent to:
(a - b > 0) && (c - d > 0)

Now when are two given numbers both positive? That is if and only if the smallest is positive:
We may now use our trick:
(a - b) + (c - d) - |(a - b) - (c + d)| > 0

And so the code could be rewritten as such:
float a, b, c, d;
/* ... */
return (a - b) + (c - d) > fabsf((a - b) - (c - d));

We basically replaced the additional test with a call to fabsf and some additions/subtractions. It may be possible to reorganise the input data so that this second version performs better.